Have a convivial good-time in our restaurant La Cour des Brasseurs.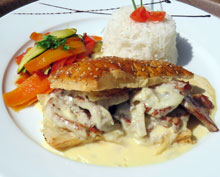 You will have the pleasure to discover our beer specialities.
For those who are not too hungry: Toast Maître Brasseur lied on a lettuce, or for a fine eating the Onglet de Veau à la Bière served with "Spätzele", the traditional alsacian noodles.



Our Team will assist you throughout your meal in a hearty and comfortable place where we will also give the opportunity to discover different courses and mainly our "Plat du Jour" and "Menu du Terroir".

The Alsace is well-known for his famous beers and wines. What would be your choice?
Give in to temptation of an unctuous beer, a glass of our Muscat, or one of our wines who will be advised by our Chef de Rang.

A good meal should ever be finished with a coffee. And why not to take in at
the bar, where the softened ambiance allows you to evacuate the stress from a hard working day.


The restaurant is closed during the month of August and
Christmas at the end of the first week of January.
Please inquire at the hotel: 03 88 62 55 55

Do you like to be quiet, or do you plan to watch TV:
a room service may be provided to you.



Free Internet WIFI access,
in the bar and in the restaurant.